5V ADC CANbus Gateways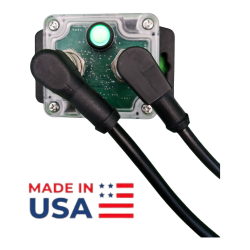 Trim Tabs - N2k Gateway (MMI-5V-CANGW)
Trim Tabs to NMEA2000 Gateway.


Works With All OEM Style 5v Position Sensors
Easy End User Setup And Calibration Process
Performs System Diagnostic Checks On Startup
33C Cable To 5v Digital Adapters Available
Our latest in-house design, this 6-channel ADC gateway allows the addition of Trim Tab position on N2k equipped multi-function displays. High resolution inputs channels, easy 3-step calibration process, provides the end user with a full scale view of tab positions. These units can also be programed to read
Drive Trim
position for up to
4 outdrives
, along with 2 tabs.
Each gateway comes with a M12-8 pin pigtail cable. Custom length plug-n-play cable kits available upon request.
N2K PGN 130576 - Small Craft Status

* Port Trim Tab
* Starboard Trim Tab

Pre-Order Now For Our 10.1.2023 Release Date.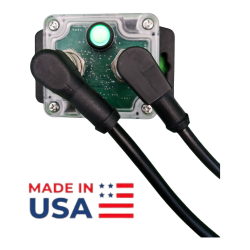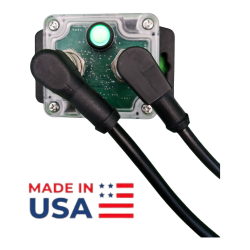 5v ADC to CANbus Gateway (MMI-5V-CANGW)
Building on our race proven CAN-2-CAN gateways, MMI recently developed a 0-5V 12 bit ADC version. This new CANbus gateway connects to, and receives power from the N2k network via our standard male IP67 rated M12 5-pin bulkhead connector. The same NMEA-2000 or Devicenet cabling, just like our other gateway units.
For analog inputs, a male IP67 rated M12 8-pin bulkhead connector tied to a 6 channel ADC chip, along with 5v high and low level reference lines. Allowing this gateway to connect up to
6 analog input channels
from standard 5v sensors or potentiometers. It then outputs the converted values on any two wire CANbus network.
On the outside we've kept our same IP67 UL rated case. Then we added a board mounted IP67 rated RGB push button momentary switch. This illuminated button allows for easy sensor scaling and calibration. It can also display specific error notifications using colors and flashing patterns. 
Easily add important data to your display that current ECM/PCM setups doesn't cover. No-matter the hardware or CANbus protocol, this ADC Gateway can likely talk to it.
Currently available N2k firmware options below. Others options available upon request.
N2K PGN 130576 - Small Craft Status

* Port Trim Tab
* Starboard Trim Tab